Unleash the Fun: Tips for Camping With Dogs
Hello, fellow campers and dog lovers! If you're planning on camping with dogs, you're in for a rewarding experience full of tail-wagging adventures and unforgettable memories. Here at Cleveland Sandusky Jellystone Park™, we've seen countless families enjoy their camping trips with their four-legged companions.
To help you make the most of your camping experience with your pup, we've gathered some of our top tips:
Tips for Camping With Dogs at Cleveland Sandusky Jellystone Park™
Pack the Essentials
Remember to bring your dog's food, water bowl, leash, toys, and a comfy bed or blanket.
Leash Up When Camping with Dogs
While our dog park is a great place for off-leash fun, it's important to keep them leashed when camping with dogs in other areas for their safety and the comfort of other campers.
Quiet Hours Matter
If your pup is a bit vocal, try to soothe them during quiet hours to ensure other campers can enjoy their rest.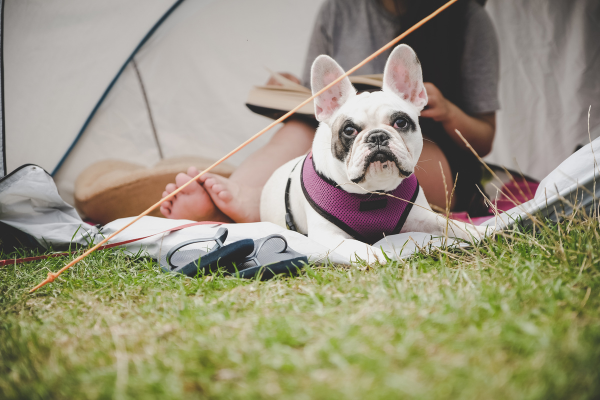 Leave No Trace
Always have bags on hand to pick up after your dog. It's part of keeping our park clean and enjoyable for everyone.
Prep Your Pup for Indoor Time
Before entering your RV or pet-friendly cabin, give your dog a good brush and wipe down to prevent them from tracking in dirt or leaves.
Hydration is Key
Just like us, dogs need plenty of water, especially on hot days.
Vaccination Records
It's always good to have your pet's vaccination records on hand, just in case.
Tag Your Pup
Consider putting a tag on your dog that includes your site number. This way, if they accidentally wander off, they can be easily returned to you.
Adventure Together
Don't just leave them in the RV or cabin. Go on strolls around the campground, play fetch at the dog park, and enjoy lounging around the campsite together. Bring their favorite chew toys to keep them busy. Remember, idle pups can get rambunctious!
Embrace the Fun
Most importantly, enjoy your time together. These are the moments that make camping so special.
Camping with dogs can be a pawsitively amazing adventure. With a bit of preparation and these tips in mind, you're all set for a fun and memorable camping experience at Cleveland Sandusky Jellystone Park™.
Ready for a Howlin' Good Time?