Exciting Water Fun at Jellystone Park™ Cleveland Sandusky
Summer is in full swing, and it's time to dive into some exciting water fun! At Jellystone Park™ Cleveland Sandusky, you'll find a paradise of aquatic adventures suitable for the whole family. From a resort-style pool to rip-roaring water balloon launchers, gem mining to foam parties, get set to make a splash and keep cool in the summer heat.
Water Fun Galore!
Dive Into the Resort-Style Pool
Immerse yourself in the refreshing waters of our brand-new resort-style pool. It's the perfect spot to relax, swim, and cool off under the sun.
Conquer the Wibit™ Inflatable Waterpark
Prepare for an unforgettable water adventure at the Wibit™ inflatable waterpark. Test your balance, navigate across floating obstacles, and plunge into the lake for endless fun.
Launch Into Water Wars
Gear up for an epic water battle with the Water Wars launcher. Engage in friendly competition as you soak your opponents with water-filled balloons.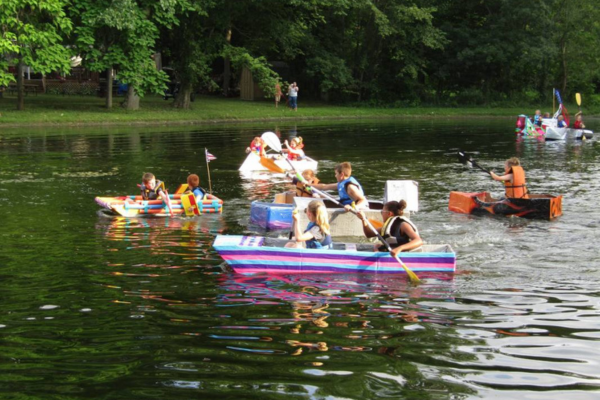 Kayak Across the Lake
Explore the serene beauty of Jellystone Park™ from the water by kayaking across the tranquil lake. Enjoy the peaceful surroundings and the cool breeze as you glide along.
Discover Treasures at the Gem Mining Sluice
Unleash your inner explorer and try your luck at gem mining. Use water to sift through dirt and rocks, revealing colorful gems and precious stones. It's a fascinating and educational experience for all ages.
Cast Your Line and Fish Lakeside
Cast your line and enjoy some peaceful water fun fishing by the lakeside. Spend quality time with your family while enjoying the calming waters and the excitement of reeling in a catch.
Get Silly with Foam Parties
The kiddos will have a blast as they laugh, splash, and get engulfed in shimmering waves of foam at the park's bubbly parties.
Sun Safety Tips for Water Fun
While having a blast with water activities, it's crucial to prioritize sun safety. Here are some essential tips to keep in mind:
Wear sunglasses to shield your eyes from harmful UV rays.
Put on a wide-brimmed hat to protect your face and scalp.
Apply sunscreen with a high SPF and reapply regularly.
Stay hydrated by drinking plenty of water throughout the day.
Rest and Relaxation
After a delightful day of water adventures, it's time to unwind and rejuvenate. At Jellystone Park™ Cleveland Sandusky, you can enjoy comfortable accommodations and a peaceful atmosphere in a(n):
Air-Conditioned Cabin: Retreat to the comfort of your air-conditioned cabin rental, where you can relax, recharge, and enjoy modern amenities.
Full Hooup RV Site: Relax at your RV site with full hookups, including electricity, to crank up your air conditioning.
Tent Site with Electric and  Water Hookups: Power your fans to stay cool during the night, ensuring a comfortable and restful sleep.
Make a Splash at Jellystone Park™ Cleveland Sandusky Your Ultimate Water Fun Getaway
Ready to beat the summer heat and get your fill of thrills and water fun at Jellystone Park™ Cleveland Sandusky? With an array of exhilarating water activities, there's no shortage of excitement for the whole family. After an action-packed day, retreat to the comfort of your cabin or campsite to recharge for the next day's adventures. Create unforgettable memories with family and friends this summer.
Dive Into a World of Thrilling Water Fun at Jellystone Park™ Cleveland Sandusky