Pumpkin Carving Tips for a Spooktacular Experience
October at Cleveland Sandusky Jellystone Park™ is a time of festive fun, with our
Halloween Spooktacular Weekends
taking center stage. Every weekend in October, the park is alive with a myriad of Halloween activities, from haunted trails and costume contests to arts, crafts, and of course,
pumpkin carving
. To ensure you make the most of this beloved tradition, we've gathered some expert tips to help your jack-o'-lantern shine brightly amidst the spooky celebrations!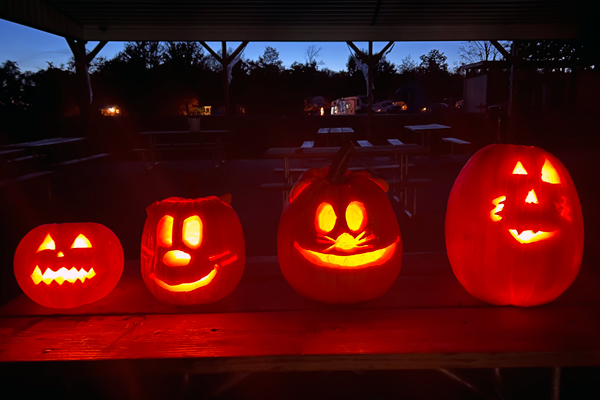 Pumpkin Carving 101: Gourd Times Ahead at Jellystone Park™
Step 1: Choose the Right Pumpkin
Start with a fresh pumpkin that's smooth, flat-bottomed, and free of soft spots. A slightly larger pumpkin is easier for beginners, offering a broader canvas for your spooky designs.
Step 2: Cut from the Bottom
Instead of cutting the top for the lid, try cutting the bottom. This method makes it easier to clean out the insides and allows the pumpkin to sit flat when displaying.
Step 3: Scoop It Out Well
Using a sturdy metal spoon or a special pumpkin scraper, remove all the seeds and stringy pulp. The cleaner and smoother the inner wall, the easier it will be to carve.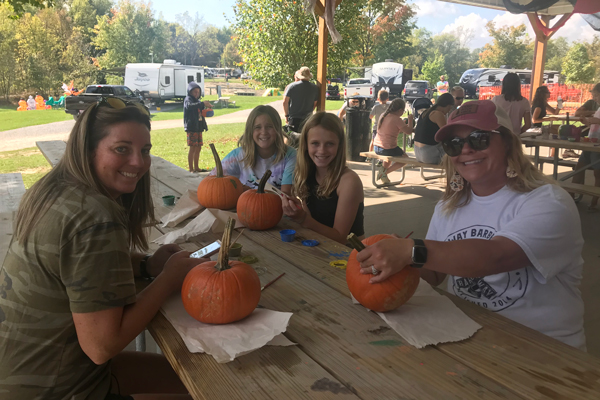 Step 4: Keep It Fresh
To prevent your pumpkin from drying out, apply a thin layer of petroleum jelly on the cut edges. This seals in moisture and keeps your design looking fresh longer.
Step 5: Use the Right Tools
While kitchen knives can work, a pumpkin carving kit is ideal. These kits often come with small serrated saws that are safer and more effective for detailed designs.
Step 6: Light It Up
Ditch the candles and opt for LED tea lights or glow sticks. They're safer, last longer, and give your pumpkin a hauntingly beautiful glow.
Step 7: Get Creative
While classic jack-o'-lantern faces are always a hit, don't be afraid to get creative. Use stencils, or freehand a design that's uniquely yours. From spooky scenes to funny faces, the sky's the limit!
Step 8: Safety First
Always carve with care. If children are involved, let them draw the design and clean the pumpkin, but leave the carving to the adults.
Pumpkin carving is more than just a fun activity; it's a chance to create memories, share laughs, and showcase your creativity. And at Cleveland Sandusky Jellystone Park™, amidst the backdrop of our Halloween Spooktacular Weekends, your carved masterpiece becomes part of a larger celebration of spooky delights. So grab your pumpkins and tools, and let's carve out some fun this October!
Reserve Your Spot for Spooktacular Camping