Fostering Family Traditions at Cleveland Sandusky Jellystone Park™
There's something special about camping that brings families closer. It's about the laughter around the campfire, the joint effort in setting up a campsite, and the joy of exploring nature together. Here at Cleveland Sandusky Jellystone Park™, we provide the perfect setting for all this and more, offering a nurturing ground to kindle or continue your family traditions in camping.
The Heart of Family Camping
We've got a spot for everyone, whether you're into tent camping, rolling in with an RV, or keen on cozying up in one of our comfy cabins. With new additions like RV sites, cabins, and a glamping area with safari tents on the way, we're always finding ways to make your stay even better.
A Playground of Activities
Boredom isn't in our vocabulary here. We've got a ton of activities that'll keep the whole family entertained. Try your hand at human foosball, find hidden treasures with gem mining, or race each other on our radio-controlled track. Whether you're a land lover or a water baby, there's something for everyone to enjoy​.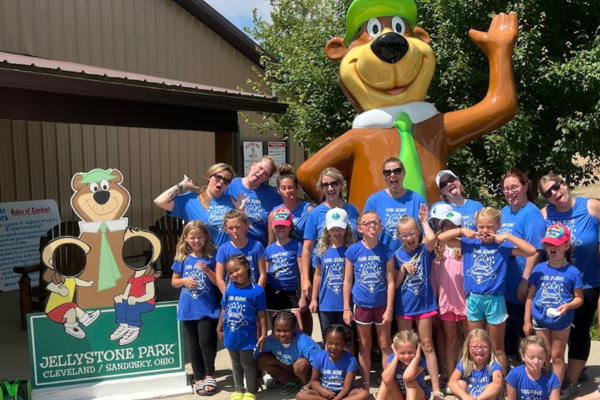 Crafting Meaningful Family Traditions
Campfire Bonding: Nothing beats campfire bonding. It's about the stories shared, the songs sung, and the marshmallows roasted. It's where the best family memories are made.
Cooking as a Family: Cooking together is a blast. Whether it's a BBQ or a campfire cookout, family traditions like these are about teamwork, tasty food, and the tales told over a shared meal.
Exploring Together: With paddle boats, kayaks, and a whole lot of land activities, every day is a new adventure waiting to happen.
Learning and Growing Together
Practical Camping Skills: Our park is a great place for parents to pass along camping basics to the kiddos, from pitching a tent to learning about fire safety.
Teamwork and Responsibility: Setting up the campsite is a family affair that requires working together, sharing responsibilities, and learning the ropes of camping as a team.
Skill Building: There's much to learn and enjoy, from fishing to navigating the park. Every activity is a chance to learn something new, have fun, and grow together​​.
Modern Conveniences in a Natural Setting
We get it; a bit of modern comfort makes camping all the more enjoyable. Our on-site amenities, like clean bathrooms, a camp store, and golf cart rentals, ensure a comfortable stay without missing out on the rustic camping vibe​​.
Cleveland Sandusky Jellystone Park™ is more than a camping spot; it's the start of beautiful family traditions waiting to unfold. Consider making us your go-to place for family camping and start building traditions that will last a lifetime.