Snag Your Campsites for the Total Solar Eclipse
A Stellar 2024 Campout Awaits at Cleveland/Sandusky Jellystone Park™
Excitement is brewing at Cleveland/Sandusky Jellystone Park™! We're thrilled to announce a special opening, April 5-9, 2024, for the upcoming Total Solar Eclipse. Imagine setting up camp with friends and family, the anticipation building as the sun, moon, and Earth line up for a show-stopping moment of totality. This is your invitation to secure your primitive RV and tent campsites for the Total Solar Eclipse on Monday, April 8th, and be part of an event that will be talked about for generations!
What is a Total Solar Eclipse?
The total solar eclipse is a rare alignment of the sun, moon, and Earth. As the moon sneaks between the Earth and the sun, it casts a shadow that creates a twilight experience in full daylight. The sky darkens, the temperature drops, and for a few precious minutes, we're given a rare glimpse of the sun's outer atmosphere, the corona, a sight that has captivated humans for millennia.
The Great American Eclipse of 2024
The 2024 Total Solar Eclipse is a unique event, not to return for centuries in these parts, making it an actual once-in-a-lifetime experience. Stretching from Mexico to Eastern Canada, the path of totality will pass directly over us, with Cleveland/Sandusky Jellystone Park™ providing an excellent vantage point. The total eclipse will last for an enthralling four minutes. But the entire experience, from the start of the partial eclipse to the end, will span several hours, offering a whole afternoon of awe and wonder.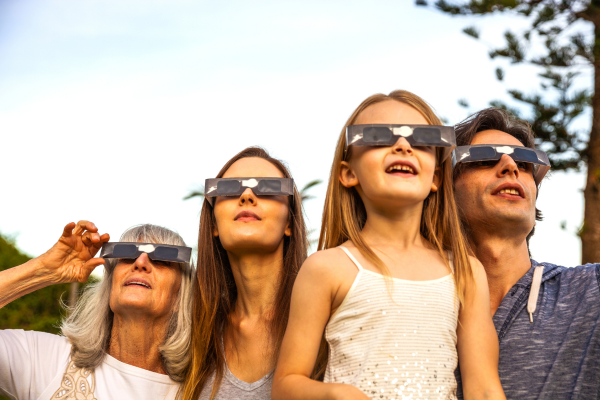 Planning to Book Campsites for the Total Solar Eclipse?
At Cleveland/Sandusky Jellystone Park™, we're all about creating unforgettable experiences. Here's how you can prepare for your eclipse camping adventure:
Book Early: With a spectacle this grand, camping spots are sure to be in high demand. Reserve your RV or tent site today and ensure your place under the eclipsed sun. RV Sites are $75 per night, and Tent Sites are $50 per night.
Stay Safe: Bring your eclipse glasses to enjoy the view safely.
Amenities and Accommodations
Cleveland/Sandusky Jellystone Park™ is ready to make your stay comfortable and convenient. Our primitive campsites for the Total Solar Eclipse come with essential amenities like electric hookups, fire rings, and picnic tables. Community showers and restrooms will be available for use. We'll also offer firewood for purchase.
But Wait… There's More!
You're invited to camp out from Friday, April 5th to Tuesday, April 9th, making it a full weekend of fun, or opt for an overnight stay. Plus, with our flexible cancellation policy, you can cancel 24 hours in advance, with no minimum stay required!
Join us at Cleveland/Sandusky Jellystone Park™ as we celebrate a truly monumental celestial event, and now you can too! Right in your campsites for the Total Solar Eclipse. It's an opportunity to spark wonder, ignite imagination, and create stories you'll tell for years. This is more than just camping; it's witnessing a marvel of the universe alongside family and friends.
Ready for This Epic Adventure? 
Secure your campsites for the 2024 Total Solar Eclipse at Cleveland/Sandusky Jellystone Park™