Experience Family-Friendly Camping at Cleveland/Sandusky Jellystone Park™
Cleveland/Sandusky Jellystone Park™ welcomes families to enjoy a fantastic camping experience surrounded by nature's beauty. With a variety of accommodation options available, including cabins, RV sites, and tent sites, there's something for everyone to enjoy. Let's dive into the different ways you can stay at our family-friendly camping destination.
Family-Friendly Camping Options
Cabins: A Home Away from Home
At Cleveland/Sandusky Jellystone Park™, you'll find cozy cabins designed to accommodate your entire family. Whether you choose the: 
… these comfortable retreats offer a peaceful escape. Unwind in fully equipped kitchens, relax in comfortable living areas, and enjoy the convenience of modern amenities. Each cabin has its own unique features, so you have a wide selection to suit your needs and preferences.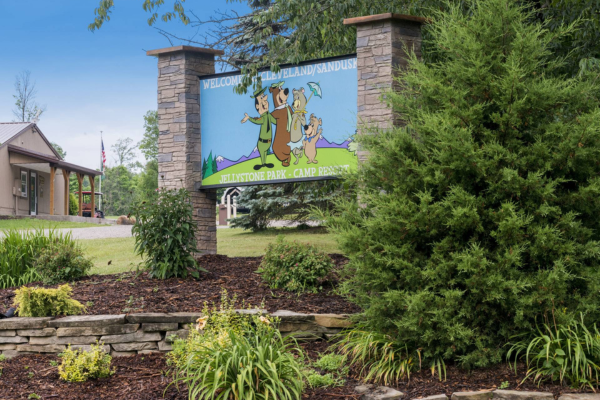 RV Sites: Freedom on Wheels
For those who prefer RV camping, we provide a range of RV sites. Whether you have a small camper or a big rig, you'll find sites with full hookups and partial connections, including electric and water. The park offers convenient pull-thru and back-in sites, ensuring ease of setup and comfort during your stay.
Camping with friends? Try our Quad Sites, which accommodate up to four RVs on three large gravel pads. With amenities and activities just steps from your campsite and a family-friendly camping atmosphere, you may just want to extend your stay a few more days!
Tent Sites: Embrace Nature's Charm
Immerse yourself in the beauty of the great outdoors with the tent sites at Cleveland/Sandusky Jellystone Park™. These electric and water hookup sites provide a rustic camping experience while still offering access to the park's amenities and activities. Fall asleep under the stars, enjoy campfire stories, and create unforgettable memories surrounded by nature's tranquility.
Embrace Fun-Filled Family Camping at Cleveland/Sandusky Jellystone Park™
Cleveland/Sandusky Jellystone Park™ invites families to enjoy a delightful camping experience filled with fun and adventure. Whether you opt for the comfort of a cabin, the freedom of an RV site, or the simplicity of a tent site, you'll discover a welcoming environment where you can bond with family and friends. So, pack your camping gear, embrace the playful spirit, and embark on an exciting family-friendly camping journey.
What's Your Preferred Camping Style?